Oil Change
Chrysler Dodge Jeep Ram Oil Change Service & Coupons ︱Logansport, IN
Are you looking to get an oil change for your Chrysler, Dodge, Jeep, or Ram? Stop by Mike Anderson CDJR in Logansport, IN! We are staffed by a service center team of technicians ready to get the job done. Just sit back and relax — you'll be on the road again in no time. Use our schedule service form to make an appointment for an oil change, or give us a call at (574) 601-3571.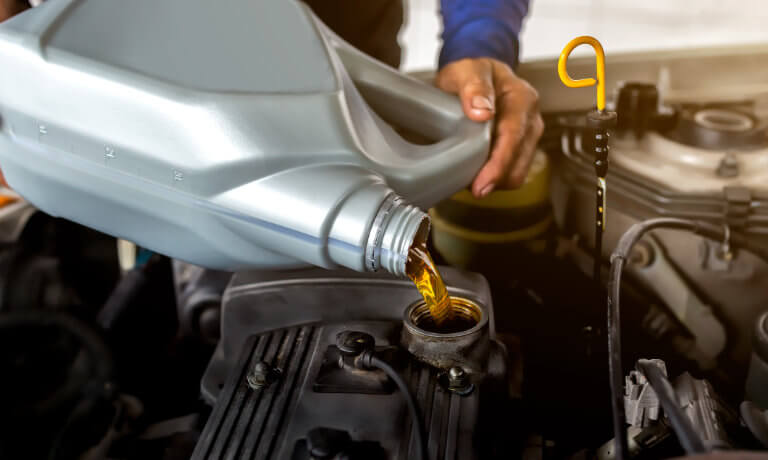 When to Change Your Oil
When should you change your oil? This depends on a variety of factors, including the age of your vehicle, how often you drive, and oil quality. On average, you should expect to change your oil approximately every 3,000 miles or every six months, whichever comes first.
Chrysler Dodge Jeep Ram Oil Change Diagnostic Light
If your oil change diagnostic light comes on, it's a good sign that you should have your oil levels checked. The oil change light being on means that the oil pressure in your engine has dropped, which will impact your engine's performance. If this is happening to your vehicle, bring your vehicle to Mike Anderson CDJR to have the engine and oil levels examined.
Conventional vs. Synthetic
What's the difference between synthetic and conventional oil? Synthetic oil is designed to withstand extreme temperatures at both ends of the spectrum, whether it's the dead of winter or the height of summer. Additionally, some newer vehicles are engineered to work better with synthetic oil.
Importance of Routine Oil Changes
Routine oil changes keep your engine running smoothly so that you can focus on your commute and errands. If you neglect regular oil changes, your engine will start becoming too hot, reducing efficiency and leading to warped engine parts.
Benefits of Oil Changes at a Dealership
When you have your oil changed at a dealership, such as Mike Anderson CDJR, you can rest easy knowing that experienced technicians are handling the job for you.
Oil Change Coupons
Save on your next oil change at Mike Anderson CDJR by taking advantage of one of our service specials.
Schedule a Oil Change Near Me
Ready to get an oil change in Logansport, IN? Schedule a service at our service center today! If you have any questions about the process, call us at (574) 601-3571.